Opportunity is Out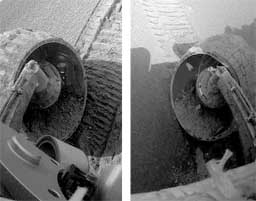 Photos down from Mars this morning show Opportunity has climbed out of its sandy mess. Steve Squyres
confirms
it.
Here's a movie
of the progress.
Now what? Will they still attempt to make it to
Victoria Crater
?
UPDATE: June 4th quote from Steve Squyres' blog -
"And just so there's no doubt about it, this little incident is not going to deter us from continuing our southward exploration. South is where we think the best science is, and we're not going to turn tail and run because of one unfortunate episode."Top Men
say "Sweet!"