Human Echolocation?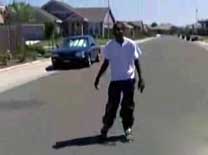 Although skeptical by nature,
Top Men
are willing to give the benefit of the doubt in such remarkable cases as
this
. Seems this kid lost both his eyes to cancer at age two. His mom told him he had to use his other senses - and he actually listened (literally).
Feel free to feel good.
----
Previous related Wohba links:
Savants