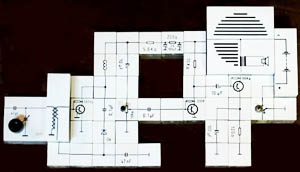 Top Men were once Top Boys. One of the toys (and we use that word loosely) that shaped us was Lectron – an electronic construction set.
Electronic construction sets have come and gone over the years, but this one was amazing. Simple, white blocks with the components hidden inside – magnetically snapped together to build all the usual circuits: alarms, blinkers, organs, radios, etc. The difference was how clean and elegant the results were. Not a bunch of wires snapped to springs, across unused elements – or glaring primary colored parts strung together like an explosion in a candy factory. Lectron projects looked like simple schematics – schematics that actually worked.
Lectron sets are still being produced in Germany. They've even evolved over the years to include newer digital components. But since there is no foreign distribution it takes some knowledge of German and Euros to get them. I suppose Top Men must now add "learn German" to our list of things to do.
Wir müssen zu beschaffen Lectron!
Here are a great collection of photos of some large Lectron sets.
Here is an article from 1967 Electronics Illustrated.
Here is the current Lectron web site. (Here is the english version via Google Translate.)
Here is an ad from Life Magazine in 1968.
—- Related —-