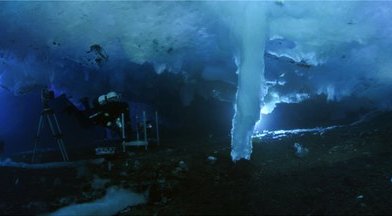 Topmen are easily fascinated. (Perhaps that's why Wohba isn't updated these days.)
Take, for example, the boundary between Earth's gaseous and liquid components – the line between air and water. It's an amazingly distinct border between worlds that humans actually love to recreate around – surfing, swimming, boating, snorkeling, wake boarding, cliff diving, deadliest catching, etc. But the gaseous layer and liquid layer have dramatic effects on each other that result in spectacular phenomena on our side of the fence – clouds being perhaps the most taken for granted.
But there are more exotic border breaches as well, and one particular case is especially interesting – brinicles. Brinicles occur when the temperature in the air is amazingly cold, and the currents in the water are amazingly calm. Extremely cold, dense brine sinks downward from the surface, freezing the relatively fresh seawater around it – resulting in an underwater icicle that (like most slow forming phenomena) looks even better when speeded up.
Some crazy BBC divers/cameramen have done just that…
Here is the video and more info.
— Related —